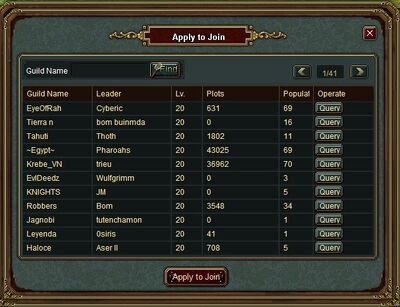 Guilds are the backbone of
Neutral Area War
in Imperial Warfare; without them, the world of IW would assuredly be a more boring and perhaps be a more peaceful (
Plunder
notwithstanding) place, because only the leaders of powerful Guilds are allowed to make
Neutral Area War
declarations in the first place.
In order to partake in Guild affairs, players are allowed to either join other people's Guilds or simply create their own.
In order for a player to establish her or his own Guild, s/he must meet the following requirements:
Not currently belong to any other Guild
Pay 50,000 Gold
In order for a Guild leader to declare Neutral Area War (something that only Guild leaders can do), her or his Guild must fulfill the following prerequisites:
100,000 Gold
10,000 Fame
30+ members
In order for a player to build a Camp, s/he must belong to a Guild that has 30 members, 100,000 Fame, and currently occupies a Neutral Area Wonder (World Wonder) near which the Camp may be constructed. S/he must also personally have:
5,000+ Fame for the first Camp, 40,000+ for the second, and 100,000+ for the third
100,000 Gold to pay
II. How to Join or Create a Guild
Edit
The guild system in IW offers players a platform to band up with like-minded people to help each other out in fierce battles and coordinate attack against powerful enemies.
1.Click on the "Guild" button under the "Orders" tab at the bottom of the screen to display the Guild interface, where you can choose to either create your own Guild or join an existing one.
2. Joining an existing guild is a more convenient option if you do not have the 50,000 Gold required for creating one. To join a Guild, click the "Join a Guild" button to open the window shown below, where the information of all existing guilds is displayed.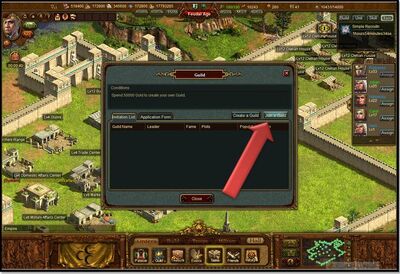 3. Press the "Query" button next to each Guild's name to open a pop-up window containing its description.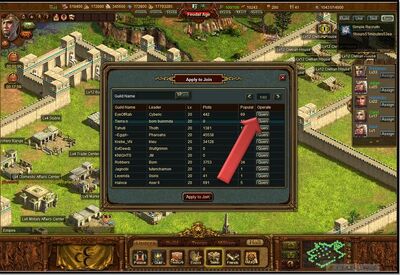 4. Study the information of each Guild carefully before you press "Apply to Join" either at the bottom of the Guild description popup window or the main Guild interface.
5. If you are confident in your leadership ability and financially ready for the fee required to create a Guild, click on the "Create a Guild" button in the main Guild interface. The following menu will display asking you to input of the name and flag design for your guild.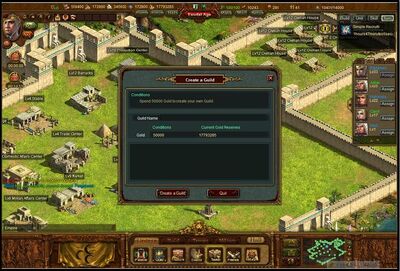 6. Restrict choices to the "Normal Flag" tab if you wish to avoid payment. Prefabricated and customized options are also available for pay on the "Luxury Flag" and "DIY Flag" tabs.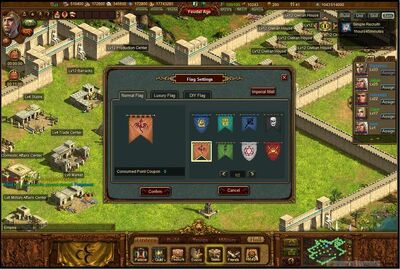 7. Now you can start recruiting members to increase the power of your Guild! Detailed Guild information and all Guild-managing menus are located in the "Guild Information" interface accessible from the same Guild button you clicked to join or create a Guild.