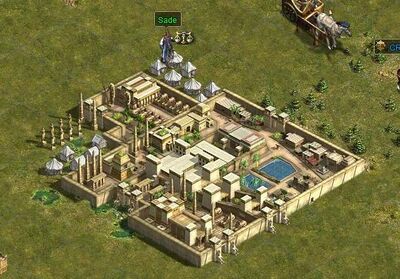 Trade is vital to the economy of your empire and can greatly turn the tides of war. Trade is carried out by Merchants recruited from the Tavern, but first a Trade Center must be built. Trade Centers can only be built once the Feudal Age has been reached.
After the Trade Center has been built, the "Merchants" tab in the Tavern interface will show you the merchants you can recruit. Once recruited, Merchants can be found at the Trade Center, ready to be loaded with either gold to buy items with or items to sell for gold.
Generally speaking, Merchants profit by buying items from areas where they can be produced cheaply and efficiently, then taking them to an area where it is not so cheap and sell it at higher prices. The farther a Merchant travels from where an item originates, the higher the price he/she can sell it for. This is especially true when crossing borders between provinces or civilizations.
How to Dispatch a Merchant
Edit
1. Before we engage in any Trade, we must first leave for a suitable region to do business. The first trade of a Merchant is always in the Trade Center of her own City. Click on the Trade Center in your City.

2. The below interface will open. Simply click on an item already stored in the Trade Center and drag it over to one of the slots in the Backpack column to deposit it into the load of the selected Merchant. Then instruct the Merchant how much Gold to carry (you should generally bring as much as possible, and don't forget to click the "Load" button next to the Gold input bar), and you're good to go! Click on the "Dispatch" button to open the Trade Map.
3. Select the village to which you would like to Dispatch your Merchant, then click "Dispatch" to make your Merchant leave.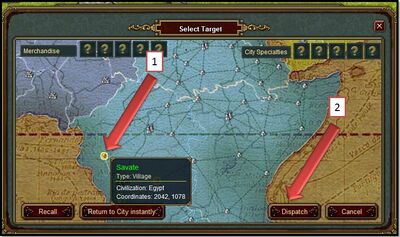 4. Godspeed!
Ad blocker interference detected!
Wikia is a free-to-use site that makes money from advertising. We have a modified experience for viewers using ad blockers

Wikia is not accessible if you've made further modifications. Remove the custom ad blocker rule(s) and the page will load as expected.